James Fortune ~Vietnam




11th ACR (Blackhorse) Regiment

As F, G & H Troops have finished their Battle of Crescent mission, and perhaps heading back to their bases, in Phuoc Long Province, South Vietnam a couple of Jim's G Troop comrades had injuries from ground fire or perhaps mines, three days later, January 23, 1970. Both were in the 11th Armored Cavalry Regiment (Blackhorse).
---
Frank Dale Hammond Posted on 1/23/03 - by cblake
You were just a boy when you left for Viet Nam..On the day you died I'm sure you had become in a man in every way. You were denied living many years and enjoying the things we take for granted. You will never be forgotten.

Everyone on the Wall should have a remembrance....

In gratitude for your ultimate sacrifice....I honor your memory today, on the anniversary of the country's great loss of Frank Dale Hammond on the foreign soil of Viet Nam. I'm sure your family and friends are very proud of you, miss you dearly and still feel the pain of their loss.

in peace always
January 23, 2003
---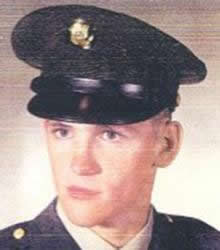 Frank Dale Hammond PFC from Eureka, Nevada is remember by one of his comrades in G Troop, Posted on 1/28/14 - by Ronald Musk "I went through advanced individual Training and went to Vietnam and we both got the same unit The 11th Armored Cavalry Regiment. He was a Cherished friend and miss him still today."
---
Posted on 11/1/10 - by Robert Sage
Frank is buried at Ceres Mem Cem, Stanislau Co, CA. BSM PH
---
---
Another soldier from G Troop that died was Donald Jerome Rice from Gay, Georgia who also succumbed to ground fire or mines on January 23.
---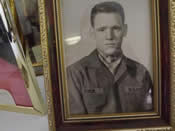 Rembering you my brother
Posted on 1/23/14 - by Stanley Rice
Donald as I set here with tears in my eyes having thoughts of our child hood and the friend ships we was growing into as adults it grieves my heart knowing you are missed daily, Love you Brother
---
Posted on 1/19/07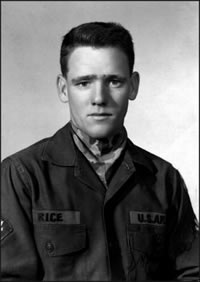 As we approach Jan.23rd.It will be 37 year's ago that we received the new's.We miss you every day.I know since Ronald & Jackie joined you that Mama has a time with you three boy's.We miss all of you so much.
I Love all of you
Your Sister
BILLIE Jean
---
Posted on 2/2/02 - by Joyce Brown
Donald, it has been 32 years since you left us but we still miss you and think about you daily. We will always look up to you for being so brave and fighting for our freedom. Not a day goes by that we don't think about how brave you were. As time goes by, the family comes to meet you, Daddy, Mama, and Ronald. Then there is the new members of the family that we tell how you gave your life so that they may have freedom. They grow to know you and love you as we all have.
We love and miss you,
Your sister, Joyce
---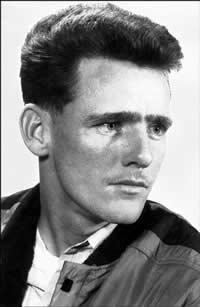 Memorial Day 2000 Rememberance
Posted on 5/28/00 - by Rickey Rice
Donald: Here it is Memorial Day 2000. I have often wondered what roads our paths would have traveled if we had not been old enough to have been in the service. The AF way of life was definitely the easier road to follow.
As you very well know, your nieces and nephews always looked to us as their hero in some small way. Having part of them choose the service and excelling so well makes us both proud.
Sometimes I wonder if the way you and so many other young americans were sacrificed was really worth it. However, in my travels all over the world and always being able to return home to the USA and what we all have today restore my faith.
On this special day and the other 364 days each year I salute you and all your fellow soldiers who sacrificed so much for all of us.
I love you and miss you.
CMSGT (Ret) Rickey Rice
---
Hi Donald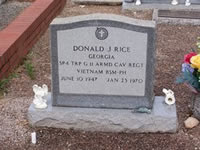 Posted on 5/26/00 - by Stanley Rice
As I sit here before Memorial Day 2000 I miss you and just want you to
know that I love you as a brother and friend.
Tell everyone hi
love
Stanley
---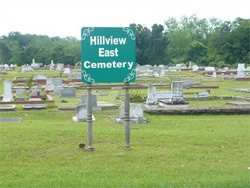 Letter to my brother
Posted on 6/24/99 - by Billie Jean Pike
June 19,1999
Dear Donald,
Happy belated birthday, on June 10. I knew you were having a big Birthday party with mama, daddy, Gay, and Brenda and with our grandparents and all of our relatives. It has been almost 30 years since we lost you. A part of all of us went with you. Things were never the same. So much has changed. I wish you were here to see your nephews. You remember the night you and Ricky came to our house before you left to go to Viet nam, I have a picture of you swinging the boys. They have grown into fine young men and are daddys themselves. They speak about you often and how you and Ricky use to pick pn them. We were all so proud of you the day that we all went to Fort Benning and mama and daddy received your metals. We still miss you and we love you very much with the good Lords help, we will all be together again and can talk forever. I know youm and Ronald are together with everyone else. We still dont understand a lot of things, but we will one day.
I will always love and miss you. Your sister Billie Jean Pike
Tell everyone we said hello and we lovbe all of them
---
BROTHER
Posted on 6/2/99 - by STANLEY RICE
DONALD WAS A GOOD SON AND BROTHER, ONE THAT WE ARE PROUD OF .I OFTEN THINK OF YOU AS I LOOK AT OUR PICTURES WHEN WE WAS YOUNGER.
I HAVE TRIED TO LET MY SONS KNOW HIM WITH THE MANY PICTURES AND
SERVICE METALS THAT MY SON MICHAEL PROUDLY DISPLAYS IN HIS ROOM
WE LOVE AND MISS YOU DONALD
BROTHER STANLEY
Operation Fresh Start ~ Feb-Apr 1970