James Fortune ~ Seoul Zoo July 1969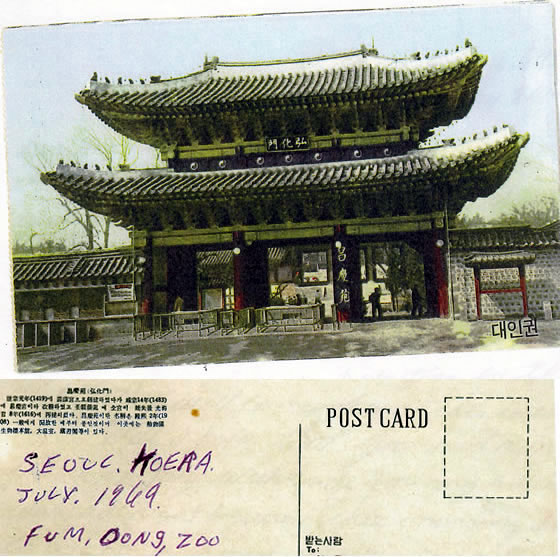 6 July 69, Sunday 8 P.M.
Dear Mom & Dad,
I got your money order today and got the Playboy yesterday. Thanks so very much for both. I really enjoyed reading the Playboy. So did Rick. When we get Playboy over here it is always a month old. Iam now all set to come home. I am now just waiting for the orders to come down from personel. They should be down anytime. I think probably they will down this week.
Well I hope that you had a nice fourth of July weekend. For my self it was all right I guess. This morning I went to a zoo in Swoul. It was so beautiful. I wish that I had a camera to take some pictures. I now that you would have really enjoyed seeing them. I went with a girl that I met quite a long time ago. Her name is Judy. Judy is a nurse at a hospital in Seoul. She speaks real good English. Her father is a doctor and her mother is a teacher at Seoul University. The zoo was so nice it only cost me fifty Won for each of us, which is about twenty cents. Here is a post card of the main gate at the zoo. After that we went walking in downtown Seoul. I bought a couple of things to bring home. I got back about four o'clock. Went and ate supper thenwent to mail call and so now I am just sitting around. Most everybody else is gone to the club or out somewhere. I really ahd a lot fun today. Teh most fun I have in such a long time and it only cost me about three dollars. I wish that you could have beenwith me today. I now that you would have really enjoyed it. But soonwe will be together once again. I will be so happy on that day.
Well mom and dad. It is time for me to bring this letter to a close for now. I will write again soon. Remmeber that I love and miss both of you so very much and remember that you are in my heart all the time.
Your love son,
James