James Fortune ~ Operation Focus Retina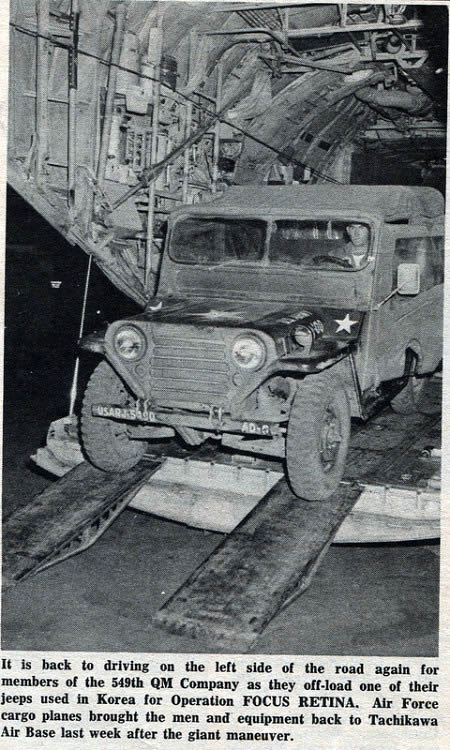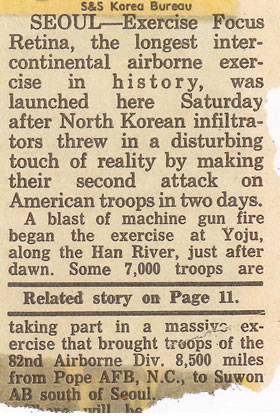 Jim saves this article as this exercise was going on at the same time he was deployed to Korea, perhaps as a mechanic for the many jeeps (see image above) that were also airlifted to Korea.
Focus Retina was an operation in 1969. It was a first for American troops. During the week of 16 March 1969 44 C-141 StarLifters and 33 smaller C-130 Hercules planes flew 2500 men of the 82nd Airborne Division out of Fort Bragg, North Carolina in a parachute jump that took 55 hours. (It would have been a 40 hour trip with two refueling stops, but due to heavy snowstorms in South Korea it took an extra day.)
This was part of an operation, some 20 years after the First Korean War of 1950 - 1953. The North Korean's denounced the exercise as "the most wanton violation of the Korean Armistice agreement and a reckless playing with fire, threatening peace in Asia and the rest of the world." The United States said they came in because of North Korean incursions into the South.
By bringing in this many troops in so short of time, the United States Military was remembering that it took two weeks before reinforcements could be brought to curtail an incursion by the North Korean into South Korea in June 1950.
Often called the 2nd Korean War (1966 - 1969), the new Nixon Administration, may also have began Focus Retina in response to the USS Pueblo incident of Tue 23 Jan 1968. The USS Pueblo was a Navy intelligence ship and was on surveillance off the coast of North Korea 16 miles, clearly in international waters. But North Koreans approached the ship with guns and demanded surrender.
Some critics have said that the new administration was done to reassure the South Koreans that despite the problems in Vietnam, that the United States stood behind it's commitment to South Korea. It also was a test of how quickly troops could be deployed to an area thousands miles away from it's homeland.