Edward J. Thomas - World War II
Dear Mom and Harry, Alaska (Sat. July 24, 1943)
On July 24 the Royal Air Force (RAF) used " window" tinfoil as a decoy to confuse German radar while they raided Hamburg. The next day Italian generals oust Mussolini, in a peaceful coup.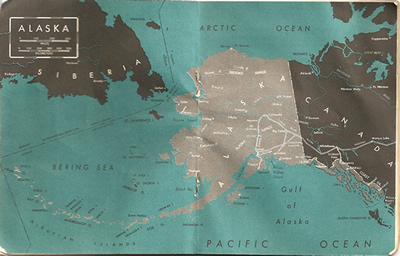 I Arrived at my destination yesterday.It's somewhere in Alaska. It seems as if its been two years since you saw me at Shenango. It seems that long since each day was crammed full with different places and strange scenry.
I don't see how it will be possible to spend my money beyond a few dollars a week. Cigarettes are 50 cents a carton, candy-3 bars for a dime. Movies are 15 cents. So I will send a money order to you after my first check and arrange to have money deducted and sent as a check to you.
A coincidence at Shenango, as a boy sat down on my bed to read a letter and suddenly he exploded. "What the hell. There is a man by the name of Edward Thomas at Shenango." He turned toward me and asked "You are Edward Thomas aren't you?" I nodded, "Do you know John Zergoski", he asked.
I told him, yes, he's my uncle. He was just as surprised as I.
He said, "He's my uncle too!" The letter I'm reading is from him. His bunk was right next to mine all the while I was at Shenango and I had no idea that a cousin slept only a few feet from me. He was a blond boy and his face looked familiar to me and reminded me of someone I knew. I couldn't recall who it was until I found out his relationship. It was Charlotte, his aunt and his mother's sister. He even resembled her in his tone of voice and manner of speaking. His name was Szymsyak (spelling?). He told me he went hunting quite a few times with John and visited grandpa's farm in Freesoil, Michigan. He was the fellow whom Charlotte wanted to visit at Fort McClellan.
I haven't received any mail ever since I left Shenango. The Detroit News must be piling up for me somewhere. When it reaches the P.O., I believe I will have to take a cart along to haul the newspaper to my hut.
Let me know how everything is doing back home. Now that I'm thousands of miles away it is of more interest than ever. As far as I'm concerned there is no need to worry. I couldn't wish for better health.
Tell Issy and mac, Gertie and Gene that I'll drop them a line as soon as I can.
So Long, Ed
On Aug. 1 Burma is given its independence from Japan and under the Ragoon government, Dr. Ba Maw declares war against the United States and Britian.