Edward J. Thomas - World War II
Below letter written by Edward J. Thomas
30 April 1945 Monday
Memphis 15, Tenn
Dear Mom:
It seems to me that on my first furlough in Detroit I left some Alaskan
Command shoulder patches at home. I wonder if you could look, around to see
if you can find any. At the most, I think I left about two or three in Detroit. These patches are round and show a bear's face with a star above it.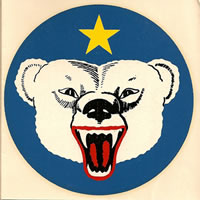 The Army now allows oversea patches to be worn on the right shoulder
besides the patch we already are wearing on the left shoulder. Three other fellows in the Quartermaster Section are wearing theirs and I am the only one who isn't. The rest of the boys, of course, can't wear any because they had never left the United states. It isn't really necessary for me to wear them, but since all the others who have been overseas are doing so, I am going to make a monkey of myself by doing the same.
I went to some of the stores in downtown Memphis and found that they
have never had these patches in stock. I don't believe there is a place in
Memphis which sells them.
The weather here has been unusually chilly for the last seven to ten
days--almost too cold for the summer khakis which I am now wearing. Most of the cold winds here come from the north and this leads me to believe you have been having quite a few cold spells in Detroit. If this is true, I hope the frosts haven't caused any damage.
This morning I thought I was going to have the afternoon off which I get
every Monday. A little later on, however, I learned I couldn't leave the
office in the afternoon because the other stenographers were leaving for the
range to fire rifles. That means my afternoon off will be on Friday this
week instead of today.
Also, I just learned I am scheduled to go on guard duty tomorrow. There
are three different shifts--4:00 PM to 12 midnight, midnight to 8:00 AM, and 8:00 AM to 4:00 PM.. I won't know what shift it will be until tomorrow afternoon. If I get either one of the first two shifts, I won't have to report
to work Wednesday. I'll be free to sleep all day or stay away from the post
part of the day if I can wake up soon enough. Usually I receive the midnight
to 8:00 AM shift. So within 35 hours from now, I'll be walking along fences
with a holster and pistol hanging from my waist looking like Tom Mix hunting for his horse.
With love, Eddie
Mon. Apr 30 - Hitler and his wife commit suicide in their underground bunker.
Harry Fixes Refrigerator Compressor