Edward J. Thomas - World War II
Sunday Sept. 2, 1945
Dear Eddie,
Yes I should be ashamed of myself and I am terribly ashamed for not writing sooner but gee I really have been terribly busy since V. J day. I have been in such a dither about selling my house and all the furniture & gadgets. I have had pretty good luck about the furniture and hope I have the same with the house. Although now is a pretty poor time to sell it with everybody being laid off including me. I am trying to get $7500 for it or rather the real estate agent is. I'm a little doubtful to this but it is for better to start at a high price and come down with it.
I suppose you have noticed the Indiana postmark.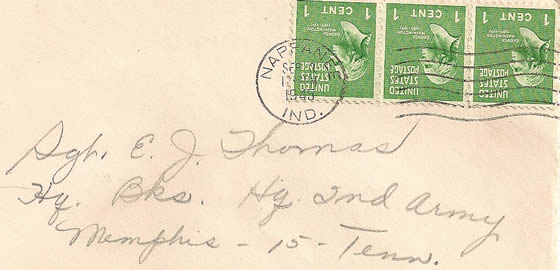 Well a good girlfriend of mine has relatives here that she wanted to visit for over labor day and asked me if I would like to come with her and I was very glad to. It is very nice here and they sure can put on the geedbag. I think I have gained 10 lbs. already. It's certainly seems funny being so far away from home cause I haven't been for ages. I am now sitting on the back porch on the swing writing on a book. I was alone but I now have company so my letter will probably sound a little confusing.
I am off of work now. I don't know for how long but I don't mind it much as I will collect $20 week unemployment compensation for 20 weeks and that isn't so bad and the way I feel I think I could stand it.
Isn't it wonderful that Harry didn't have to leave after all. Mom seems to feel so much better since the war has ended too.
I have done quite a bit of fishing this summer but didn't catch anything to brag about.
Next week we start our winter bowling season so hope I have just as good a luck as during the summer.
Well the folks here are getting ready to go to town so I'll have to finish and write again later.
So Long & Love "Izzy"
P.S. Hope you can get out soon.
Sun. Sep 2 This is the official day that Japan surrenders in ceramonies on the USS Missouri which is sitting at shore in Tokyo Bay.
Harry Plans Eddie's Return Home