Fred Korematsu (1919-2005) ~ Protested Internment at WWII Japanese Camp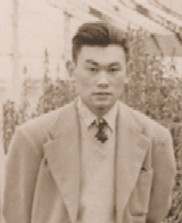 1940s ~ Fred Korematsu refused to be imprisoned at a Japanese Interment Camp during WWII.
In 1942 President Roosevelt built Japanese Incarceration camps for hundreds of thousands of Japanese Americans, even those with American citizenship.
One man Fred Korematsu (1919-2005) should be remembered as a man that refused the unlawful imprisonment and injustice he endured for his refusal to be wrongly sent to an interment camp. Mr. Korematsu would change his draft status to Spanish-Hawaiian and even change his appearance with plastic surgery. But he was arrested in San Leandros, California on May 30, 1942. He was sent to a Utah camp and spent several years there.
Fred Korematsu fought his wrongful imprisonment all the way up to the United States Surpeme Court, but they would ultimately find him guilty.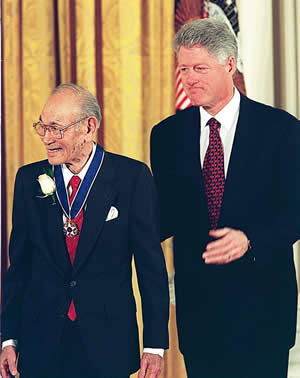 1998 ~ Fred Korematsu getting the Presidential Medal of Freedom from President Clinton (Picture courtesy of University of Hawai Foundation
Years later Fred would realize housing discrimination as well as employment discrimination. It would not be until the 1980s that a Peter Irons ~ professor at University of Califonia San Diego (UCSD) would contact the Immigration & Nationalization Department and get a hold of his file.
Mr. Korematsu would finally have his conviction overturned by a Federal Court. In 1998 President Clinton would award him with the Presidential Medal of Freedom. He passed away some ten years ago in 2005.