Joe Louis in the Army ~ World War II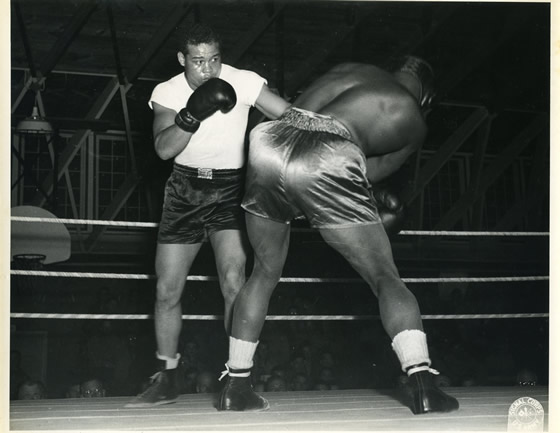 Joe Louis World Heavy Weight enlisted in the army during World War II on (Fri) 9 January, 1942, near the start of the United States involvement. He received basic training at Fort Riley, Kansas with other Blacks in a segregated unit. Joe Louis would go on to promote the services with his boxing and help raise funds for Army and Navy services. He performed over 96 boxing events in his four years of military service and more than two million servicemen saw "The Champ" as he was called, including my step-father Bill Kennedy, who was the army's photographer in the Signal Corps at Camp Polk in Louisiana during WWII. He was an inspiration to all soldiers of any race and certainly helped the morale of Black soldiers, often discriminated against during the war.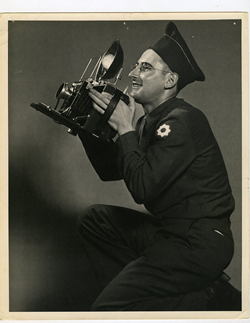 My step-father, Bill Kennedy, photographer for the army.
Joe had been also called the 'Brown Bomber. He brought the nation together as the first Black man to be embraced by the United States at that time. During the war Louis said, "Lots of things wrong with America, but Hitler ain't going to fix them."
Joe Louis was promoted to technical sergeant on (Mon) 9 April 1945, just three days before FDR died in Warm Springs, Georgia. (Sun) 23 September 1945 Joe was awarded the Legion of Merit for his "incalculable contribuiton to the general morale". With his honorable discharge he ended his three and one-half year service in Army, and went home on (Mon) 1 October 1945.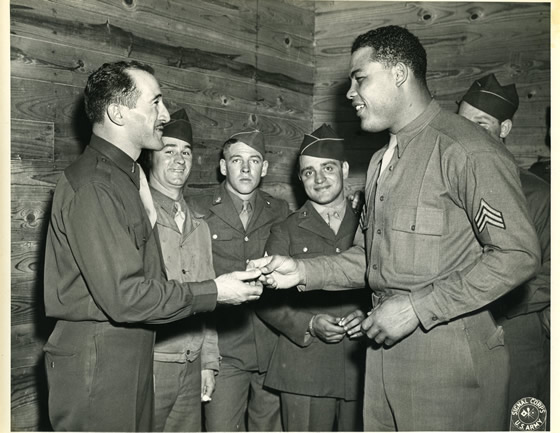 Check Back For More Pages and Updates