Leonard Andrew Tomaszewski
August 6, 1912 - February 5, 2012
Rest in Peace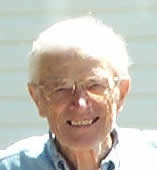 In the early hours of Sunday, Feb. 5, Leonard Andrew Tomaszewski, 99 and a half, of Ludington, was lifted up by the angels and placed in the arms of God. Leonard was born on August 6, 1912 in Stronach, Michigan, son of the late Andrew and Julia (Zagorski) Tomaszewski. He served in the U.S. Army during WWII, participated in the 2nd Assault Wave of Omaha Beach in the invasion of Normandy in the liberation of Europe on June 6, 1944 with the 531st Engineer Shore Regiment of the 8th Army. On Jan. 14, 1939 Leonard married Irene Mary Sloncz at the Queen of Apostle's Church in Hamtramck. He was employed as an Auto Worker at the Chevrolet Gear and Axle in Detroit; factory worker at Arvey Corporation in Detroit; Andrulis Cheese Factory in Fountain; farmer in Fountain; and retired in 1973 from Packaging Corporation of America as production/maintenance worker. Leonard was an active member with the American Legion Post No. 76 of Ludington until his death. He was also a devout member of the Philadelphia Church of God. He had a passion for trains and built his own railroad models. He loved gardening, planting trees and flowers and was deeply affectionate to dogs, cats, birds, and wildlife. He is survived by his wife, Irene Tomaszewski of Ludington; daughters, Marilyn Pierce (Larry) of Walhalla and Trudy McGinn of Traverse City; grandson, Lenny Gajeski of Hastings; and granddaughter, Lavonne Landis (David) of Charlotte, North Carolina; sister-in-law, Dorothy; and brother-in-law, Joe Jakubowski of Macomb; and numerous nieces and nephews. Leonard was preceded in death by his parents, Andrew and Julia (Zagorski) Tomaszewski of Manistee; one brother, Edward Thomas of Fountain; and two sisters, Leona Trunoske of Detroit, and Eleanor Gardner of Royal Oak; and numerous uncles, aunts, and cousins. Funeral services for Leonard Tomaszewski will be held at 11 a.m., Friday, Feb. 10, at Oak Grove Funeral Home in Ludington with the Rev. Keith Foisy officiating and with full military honors. The family will receive friends at the funeral home for visitation on Thursday, Feb. 9, from 4–7 p.m. and again on Friday, Feb. 10, at 10 a.m. until the time of service. Burial will be held at Fountain Cemetery. Memorial contributions may be directed to Lakeshore Animal Friends or Oakview Medical Care Facility Staff Christmas Fund. The family has entrusted funeral arrangements with Oak Grove Funeral Home and Cremation Center in Ludington.
Check Back For More Pages and Updates